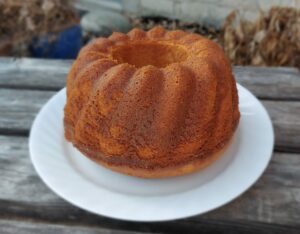 Summary
Preparation: 20 min (+10 min for the cardamon pods)
Cooking: 60 min
Total: 80 min
Ingredients
300 g (1⅓ cups) softened butter (keep wrapper to grease Bundt)
4 eggs
320 g (2½ cups) plain flour
380 g (1 ⅔ cups) caster (superfine) sugar
3 tsp baking powder
80 pods (2 generous tablespoons of pods) of freshly ground cardamon
200 ml (1 cup) milk
Method
Pre-heat the oven to 175°C /350F
Cream butter with moderate speed electric mixer for 3 min
Add eggs, stir for 1 min
In a separate bowl, mix the flour, sugar,
baking powder and cardamon
Grease a 2¼ litre (10 cup) Bundt with butter and then sprinkle the inside with the dry portion of the dough to coat it, then pour rest back in with dry portion
Stir dry portion into the egg/butter mixture.
Stir in the milk
Carefully pour into the prepared Bundt. Avoid creating air pockets. Tap the pan to remove any air bubbles and then tilt the pan gently, so that the batter runs up the sides.
Bake for about an hour until it is golden brown, just beginning to pull away from the side of the Bundt and a skewer poked into the cake comes out clean.
Let the cake cool in the Bundt for 10 minutes and then turn out on to a wire rack to cool completely.
When cold, transfer to a serving plate or board.
Leftovers?
Are you kidding?