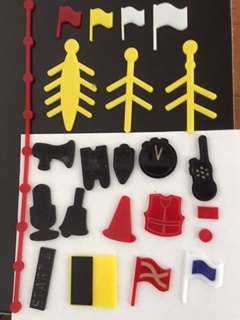 I have been working with Sandi Kirby on a table-top training kit for rowing umpires. We came up with a mat that represents a race course, and a set of boats, course markers and other kit that can be moved around the course to facilitate the discussion of various training scenarios.
We are releasing the design into the public domain so others can make their own. Your local sign shop should be able to print the mat, and a laser cutting service like Ponoko could cut the parts for you.
If you are going to make one of these, drop us a note in the comments, it would be neat to hear if someone finds this useful.